Skiing

Landhaus Osborne and Obertraun are the perfect bases for exploring this area of outstanding natural beauty characterised by the Dachstein mountain range. The region provides a real adventure for downhill and cross country skiers and snowboarders of all abilities. For those who prefer more gentle snow shoe hiking, Obertraun has plenty to offer.
In total, our local ski areas offer well over 200 kms of perfectly groomed snow-sure pistes which are suitable for all abilities - from young learners right up to expert freeriders. Resorts such as Krippenstein, Dachstein West, Loser, Tauplitz and many more are either in our village or a short drive away. More information on the nearby resorts can be found below.
Never heard of the ski resorts of Krippenstein and Dachstein West? That is because they are one of Austria's the best kept secrets.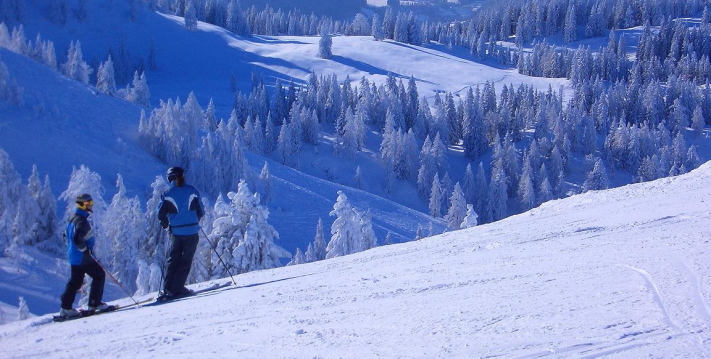 The Krippenstein Freeride Arena (Altitude 2,100 metres), which is only a 3 minute drive from Landhaus Osborne, is a magnet for those who enjoy winter sports in unspoilt natural surroundings and is accessible via the recently modernised Dachsteinbahn cable car system. Suitable for young learners right up to expert freeriders - including a 11km run with a 1,500m altitude difference from the summit down to the valley. Otherwise you can try out some off-piste skiing in the 18 square kilometre Freeride Arena. Our younger guests will have hours of fun at the recently established "Krippi-Park".
Down in the valley there is a wonderful 14 km long cross- country ski trail which passes through the "Koppenwinkel", a Nature Preservation Area renowned for its beauty. Skating is now possible on the trail too, thanks to modern technology.
For families, beginners and intermediates, then the nearby area of Dachstein West is the place to head for and is Upper Austria's largest skiing region. This is a family-friendly and down-to-earth, guaranteed snow and variety, modern and affordable: The Dachstein West skiing region has a special kind of charm. The aim here is not to be bigger, brighter and faster, but to be authentic and genuine. In the orchestra of alpine ski resorts, Dachstein West stands out as a voice of its own. And the Dachstein West ski association means that the region has now grown to include not only the core resorts of Gosau, Russbach and Annaberg but also another seven ski resorts, all of which can be accessed with ski passes with a duration of 1.5 days or longer.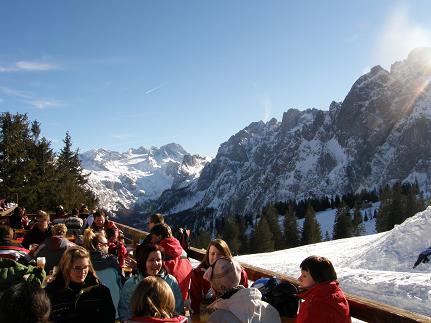 Within easy reach by car are over 200 kms of runs within the following resorts...
Dachstein West - Gosau, Russbach, Annaberg, Lungötz, Abtenau (152 km prepared runs - 15 minutes by car)

Loser (29 km prepared runs - 20 minutes by car)

Katrin-Alm, Bad Ischl (6 km prepared runs - 25 minutes by car)

Postalm Arena (20 km prepared runs - 40 minutes by car)

Feuerkogel - Ebensee (12 kms prepared runs, 40 minutes by car)

plus many more....