Mountain Biking...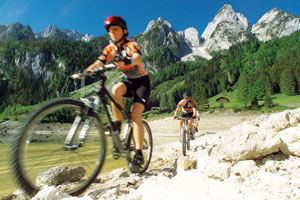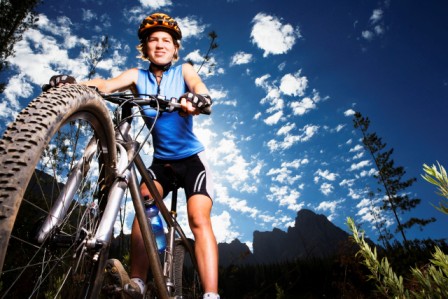 Through the Salzkammergut Mountain Bike Center we are able to arrange guided mountain bike tours to the most scenic spots in the Salzkammergut, 5 days a week.
Through them we can arrange for you to either take part in a one day guided tour, or even have your own personal guide who will take you on a tour and also provide MTB training. The price for a tour is €28 per person/per tour. Or the price for an individual tour is €90 per tour (for 1 – 4 persons).
The advantages of having a local guide are as follows:
Enjoy nature without having to worry about navigation
Local guides know the best trails and most scenic spots
Local guides can point out the natural, cultural and culinary highlights en route
Experienced guides can provide useful information on trail and riding techniques
Tips on equipment, nutrition, training etc.
Guides can help you fix problems with your bike (flat tires etc)
Enjoy biking as a social experience – meet other bikers
Guides can help you in case of emergency
Choose between Fixed or Individual tours, Taster sessions or Intensive Technique classes.
The tours are offered for two different experience levels: Beginners and Advanced. Beginners tours take about 2 hours and climb no more than 500 to 700 meters. Advanced tours take 3 to 4 hours and climb from 900 to 1200 meters. Fixed tours are offered from one participant.
Duration:
Beginners: Approx. 4 to 5 hours; Tours start with a briefing on the route and some riding tips; cycling time: approx. 2 hours; elevation gain: between 500 – 700 meters max.;
Advanced riders: cycling time approx. 3 – 4 hours; elevation gain: between 900 – 1200 meters max; total duration: 4 – 5 hours;

A stopover at a mountain hut is planned for both groups!

Fixed tours are offered from one participant! Max group size: 10 persons.

Price per person: €28.

Groups:
5 – 10 persons: €130 (1 guide)
11 – 20 persons: €260 (2 guides)
21 – 30 persons: €390 (3 guides)
If you are in a small group, or wish to take an individual tour, then we can arrange fixed tours but you can also create your own custom tour or discuss route variations with your guide.

Price: 1 – 4 persons: €90 / tour

From 5 persons / group rates:
5 – 10 persons: €130 (1 guide)
11 – 20 persons: €260 (2 guides)
21 – 30 persons: €390 (3 guides)
Taster Tours are perfect for those wishing to give mountain biking a try. The price includes an introduction to basic cycling techniques and skills and a short tour (approx. 1 hour) including rental bikes and helmets.
Duration: approx. 1 hour

Price: €30 per person (incl. rental bike and helmet); 2 person min.


This 2.5-hour crash course concentrates on smooth and efficient bike handling and the skills you would like to improve.
Whether you wish to get comfortable shifting gears or braking, want to learn how to conquer steep hills – both up and down or navigate switchbacks and obstacles.... the choice is yours!

Duration: approx. 2.5 hours.

Price: Price from 2 persons: €18pp

If you would like to book, or request further information, then please do not hesitate to contact us.